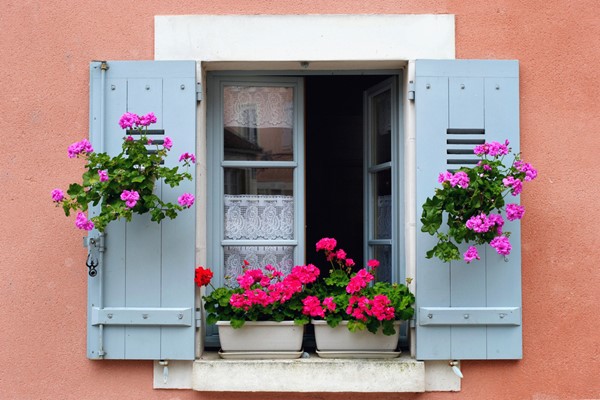 Creating the curb appeal that you want does not have to be as complex as a full-scale remodel. If your home's exterior is in decent condition, spend your time and budget on things that pack a big punch. Upgrade how your home looks from the street with these simple exterior, lawn, and garden hacks.
Fill planter or window boxes that hang off porch railings, or under the front windows with colorful annuals such as impatiens, begonias, or petunias. Add smaller pots of greenery into the boxes such as maidenhair fern or ivy so that you have an abundance of flora draping over the side. Adding cheery blooms to your exterior catches the eye and enhances your street-side appeal.
If installing window boxes is out of your comfort zone or might damage stucco or another exterior finish, add drama with a collection of larger and smaller pots. Fill some with plants that grow up and others with flowers that bloom in a bushy shape. Still, others can flow over the sides. Try easy-to-maintain succulents in container gardens or colorful native grasses or cacti if your climate permits. Choose pots with colors that complement the exterior of your home. Place some pots on wider steps leading up to the porch and others filled with shade-friendly plantings to either side of the front door.
Plant a fruit or flowering tree. Depending on how large the front yard is and the area available away from the foundation, an ornamental tree can boost your home's charm. Determine the potential size the tree might grow by conferring with a nursery or arborist so that the location you choose allows the roots to take hold and not encroach on sidewalks, foundations, and drainage areas. If your home is symmetrical, consider flanking your entry or driveway with a pair of trees or bushes.
Upgrade your lighting. The porch light and carriage lamps on homes take much beating from the sun and weather. Replacing them with new fixtures that have LED bulbs might be just the thing to set your home apart from the rest. Choose a design that complements the architectural features of your home. If you cannot afford new fixtures, take down the existing ones, clean and repair them, and even spray-paint the metal before putting them back up. Replace the incandescent bulb with a soft-white LED bulb rated for outdoor use. If possible, install a lamp post in your yard that turns on at dusk and off at dawn. Select a design that enhances your home and casts a soft glow. Alternatively, add solar path lights along the walkway or to highlight a flowerbed.
Replace your mailbox. Unless it is a bricked-in version that matches the home, most curbside mailboxes end up battered and bent out of shape over time. Even bricked in boxes might have missing mortar or chipped bricks that you should repair. Replacing your dented, rusted, or old mailbox with a new one gives you an instant upgrade. Make sure to check with your local carrier, city, and neighborhood association for regulations and requirements before buying your new mailbox.
When considering whether or not to place your home on the market, talk to your real estate agent for ideas and information on making your home the most attractive in the neighborhood.